Hair oil: Essential oils for your hair type
Hair oil has been here for you all along while you're out there getting tiring hair treatments and buying expensive products for soft, shiny and lustrous locks! It's time to stop now! It's time to go old school, it's time for you to oil your hair.
Let's do a Q/A for the most common hair oiling methods to get the most effective results!
Q) How often should I practice oiling for best results?
Those school days are gone where oiling was a part of our everyday routine. With the hectic life we have, oiling thrice a week is the most ideal amount for any and every hair type there is.
Q) How to enhance the effect of oil?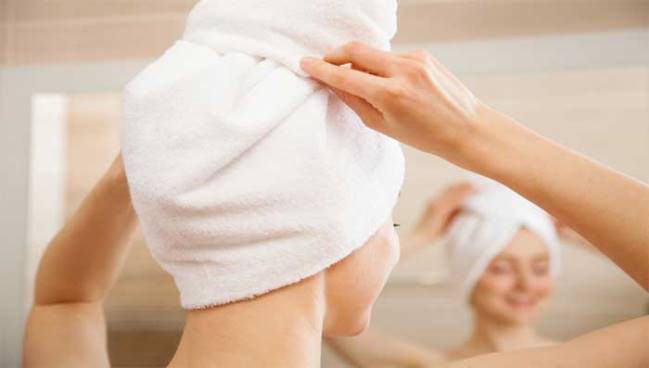 To let the oil seep in deeper, one can use the steamed towel technique. First, dip your towel in hot water. Wring the towel to remove extra water from it and wrap it around your head. Let the hot towel be on your head for 30-60 minutes. After this, follow your regular shampoo conditioner routine.
Q) How to Use Essential Oils?
Add a few drops of any essential oil to approximately 60ml of a carrier oil.  Directly applying essential oil to your scalp will cause irritation and do more harm than good.  Massage the mixture of your carrier and essential oil into your scalp, follow it up with covering your head in a towel or shower cap. Depending on the time you have, you can wash out the treatment after 30 minutes or leave it on overnight and shampoo in the morning. Both time spans show wonderful results!
Q) How to choose a carrier oil for

your hair

?
Almondl oil: Almond oil's rich vitamin E content helps resolve dandruff and flaky scalp issues.
Avocado oil: Avocado oil has deep moisturizing qualities, it's best for deep hydration of the scalp.
Castor oil: Split ends, dryness or hair loss! name it and castor oil has got you covered!
Coconut oil: In addition to adding moisture, coconut oil is also rich in protein. This can help heal damaged hair, which is composed largely of protein itself. One drawback is that coconut oil can turn solid in cooler temperatures. To melt it, you can warm it in your hand before use or place it in the microwave for 2-3 seconds.
Extra virgin olive oil: This oil prevents hair loss, treat dry scalp, and improve moisture and shine. It also has anti-fungal qualities that protect the scalp from problems like dandruff. However, people with thin hair should avoid this.
Grape seed oil: This oil is a light oil that's for extremely well maintained hair. This oil is for moisturizing your locks lightly.
Q) How to choose the correct essential oil?
Rosemary essential oil: This oil is known to stimulate blood flow. This in-turn leads to hair growth. It also has great moisturizing benefits!
Grapefruit essential oil Apart from stimulating growth, this oil balances out the moisture in your hair.
Rose essential oil Thanks to the fragrance, this oil is a mood lifter. It also stimulates growth.
Carrot seed: Carrot seed oil is a mineral rich oil that alleviates new cell turnover.
Lavender oil : Say bye bye to dryness and itchiness of the scalp every time you use lavender oil. It's also known to have calming properties.
Eucalyptus oil: Eucalyptus can also encourage hair growth, but it also cleanses your scalp. It's best used as an occasional oil rinse, especially if you experience oil scalp or dandruff. In addition to the other benefits adds shine.
Cedarwood oil : Cedarwood oil is an excellent option for nourishing and growth.
Now that you know about different essential oils and their benefits, head up to our next blog about how you can mix combinations of these oils to make different hair masks!